2local aims to encourage worldwide sustainability and prosperity by building a unique blockchain-based marketplace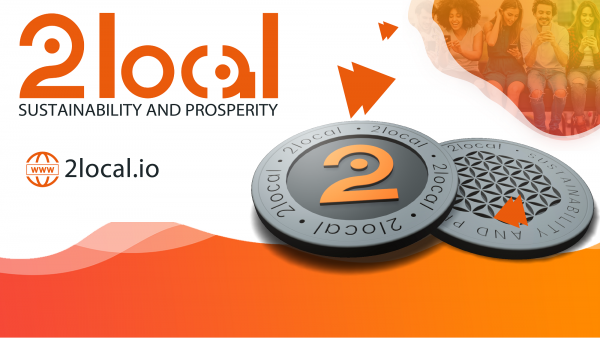 2local is a blockchain-powered platform that is building a worldwide network of consumers and companies, which produce local and sustainable. It is creating a marketplace that makes local and sustainable purchases accessible to everyone. With a vision to eradicate global poverty, hunger and solve environment and climate issues, 2local has built an innovative blockchain-based system, that is backed by a group of passionate entrepreneurs who apply their innovations to non-profit causes.
2local platform is powered by the L2L coin that serves as the primary mode of transactions for the users to make purchases from the connected companies. The ecosystem deploys a digital currency that is accessible to everyone and provides cashback for local and sustainable purchases. Anyone can become a part of this revolution by investing Euro 2.50.
The L2L token is a preparation for an 'algorithm-backed stablecoin' linked to a cashback system. A fee is deducted from every transfer, which together with the profit in the system, is returned to the participants of 2local if they purchase sustainable and/or local products from the connected companies, i.e. companies that can prove that they produce locally or sustainably. They can register for this on the website: 2local.io
An important part of the website is the marketplace section with a search function. The marketplace section on the 2local.io website will allow the users to search for companies affiliated with 2local using filters such as type of product or service. This brings consumers closer to the companies that sell sustainably and/or locally.2local aims to contribute towards the growth of a better world, following the sustainable development goals of the UN as guidelines. It wishes to build a global partnership to achieve those objectives.
2local will provide a note to the connected companies and the people who buy from those companies receive L2L tokens as cashback that can be exchanged for coins upto a certain maximum. The companies who want to be a part of the 2local marketplace can register at2local.io and complete a questionnaire. They must possess sustainability characteristics as per the guidelines such as producing regional products or be affiliated with sustainable organizations.
L2L token is all set to begin its pre-sale on September 1st. More information about the platform and the whitepaper can be seen on its official website.
Media Contact
Company Name: 2local BV
Contact Person: Antony Chang
Email: Send Email
Country: Netherlands
Website: 2local.io