Linda DeLeon-Cabrera: A Journey of Resilience and Triumph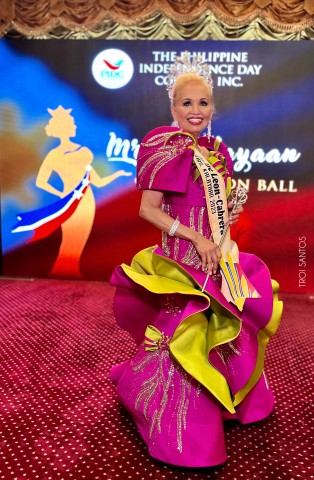 At 82 years old, Linda DeLeon-Cabrera stands as a testament to resilience and the pursuit of dreams. Born and raised in Talisay, Batangas, she embarked on a life-changing journey 54 years ago when she migrated to the United States. Recently, her extraordinary story reached its pinnacle on May 13, 2023, at the prestigious Astoria World Manor in New York, where she was crowned Mrs. Kalayaan 2023, marking a crowning achievement in her remarkable life.
The grand event was hosted by the Philippine Independence Day Council, Inc. (PIDCI) as part of the 125th Philippine Independence Day celebration. Under the theme "Honoring Cultural Heritage: Inspiring Diversity and Inclusion," the contest aimed to pay homage to the rich tapestry of Filipino traditions and the diverse backgrounds of its contestants.
As the ceremony unfolded, Linda DeLeon-Cabrera's captivating journey captured the hearts of the audience. Her migration from Talisay, Batangas to New York City serves as a testament to the courage and determination of countless Filipino migrants who left their homeland in search of better opportunities. However, Linda's story goes beyond her migration. It is a story of compassion and dedication to making a positive impact on the lives of others, exemplified by her decision to pursue a career in special education.
Throughout her tenure as a special education teacher, Linda DeLeon-Cabrera touched the lives of countless students, instilling in them a love for learning and the belief that they could achieve anything they set their minds to. Her passion for education and unwavering commitment to her students earned her the respect and admiration of her colleagues and the community she served.
The coronation of Linda DeLeon-Cabrera as Mrs. Kalayaan 2023 symbolized the triumph of perseverance and the celebration of a life well-lived. Her grace, wisdom, and vibrant spirit make her a role model for people of all ages, inspiring them to never give up on their dreams.
The distinguished presence of esteemed individuals at the coronation further emphasized the significance of the occasion. PIDCI President Nora Galleros and PIDCI Grand Marshal Dr. Dely Po Go were present, providing their support and guidance throughout the event. Additionally, Vice Consul Paolo Marco R. Mapula represented the Philippine Consulate General of New York, highlighting the importance of the event in strengthening ties within the Filipino community.
The 125th Philippine Independence Day celebration holds profound historical significance for Filipinos worldwide. It serves as a powerful reminder of the sacrifices and hard-fought battles endured by our ancestors to secure freedom and sovereignty for the Philippines. The celebration allows us to reflect on the resilience and bravery of those who fought for independence and to honor the rich cultural heritage that defines our nation.
This year's theme, "Honoring Cultural Heritage: Inspiring Diversity and Inclusion," deeply resonates with Linda DeLeon-Cabrera's personal journey. Her success as Mrs. Kalayaan 2023 not only showcases the diversity of talent, strength, and beauty within the Filipino community but also encourages individuals from all backgrounds to embrace their heritage, celebrate their uniqueness, and foster a sense of inclusivity and understanding.
Linda DeLeon-Cabrera's crowning as Mrs. Kalayaan 2023 at the Astoria World Manor represents the triumph of a remarkable woman and her enduring spirit. Her story of migration, dedication to education, and commitment to community service serves as an inspiration to all. As we commemorate the 125th Philippine Independence Day, we pay homage to our history, celebrate our cultural heritage, and honor individuals like Linda DeLeon-Cabrera who embody the essence of the Filipino spirit.
Philippine Independence Day Council, Inc. (PIDCI), is a 501(c)(3) not-for-profit organization established in 2002 in New York, NY. ( pidci.org )
Media Contact
Company Name: Business Mirror
Contact Person: Troi Santos, U.S. News Correspondent
Email: Send Email
City: New York
Country: United States
Website: businessmirror.com.ph