BougeRV released its new portable ice maker that prepares ice cubes in 9 minutes
BougeRV's portable ice machines can provide plenty of fresh ice on the go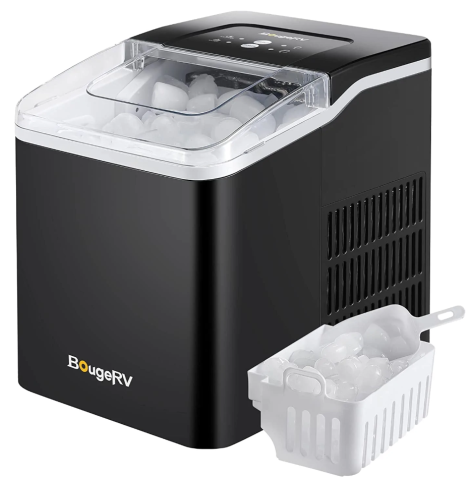 BougeRV introduces its newest portable outdoor ice maker in 2022. This new outdoor ice machine offers users a more sustainable kitchen, cutting-edge "fresh" technology, and a better outdoor experience.
"We've noticed that people don't just want to survive in the outdoors; they also want to enjoy it." That is why we are striving for it." According to the BougeRV brand manager.
When it comes to ice machines, it is natural to wonder about their ability to produce ice. What's surprising is that the BougeRV portable ice maker can produce ice quickly and efficiently. When set to make small ice cubes, the portable ice maker can make 9 cubes in 9 minutes. And the user can get 19lbs ice cubes in a day, offering them a 15-person party and allowing them to enjoy perfectly chilled beverages like wine, whiskey, beer, juice, and soda all day.
The BougeRV portable ice maker makes Ice cubes of two sizes: small ice cubes and large ice cubes. A customer can make ice cubes of two different sizes. Small ice cubes keep seafood and beer cool and fresh. Larger ice cubes are better for cooling drinks and foods faster. All to meet individuals' different ice needs.
Considering the user's sense of experience, the ice-making process should be more convenient and quiet, even when making ice at night. The BougeRV ice maker is designed to be as quiet as possible, so one can enjoy a cool night without disturbing their roommates and family. When in use, the ice machine makes no more than 50 dB of sound.
A clear lid allows users to monitor ice levels. Sensors automatically detect when ice is full and stop production to prevent spillage. For added convenience, the new bottom freezer refrigerator can be controlled and monitored through a transparent lid that allows the user to view and check the operating status at any time.
The BougeRV ice maker can be used with 12V/24V DC power in addition to AC power, which is not the case with other conventional ice makers. If solar panels and energy storage power are available, this ice maker can constantly produce large quantities of ice for every outdoor need. This ice maker can also be powered through the charging port of a car.
About BougeRV
BougeRV develops well-designed solar panels, portable power station, lifestyle appliances, air conditioners, and portable refrigerator solutions with industry-leading core technologies, with the goal of making consumers' lives better and healthier.
Media Contact
Company Name: BougeRV
Contact Person: Support
Email: Send Email
Phone: 408 429 41491
Address:1937 Davis Street, Ste. E
City: San Leandro
State: California
Country: United States
Website: www.bougerv.com