BLAZAR Army Set to Party Like It's 1999
Dubbed "the crypto pension," the Blazar token is generating excitement worldwide.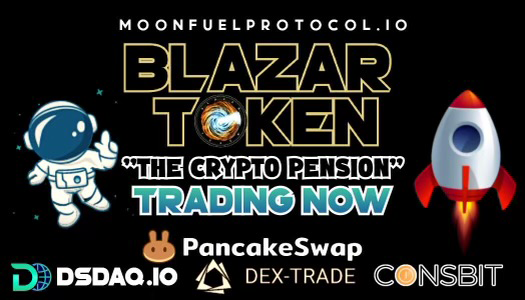 People all over the country are feeling it. The excitement stems from a cryptocurrency token entitled, "BLAZAR" and its investors who call themselves the BLAZAR army.
With the assortment of technologies that its Founder John DeSalvo has armed his creation with, nobody can argue that BLAZAR is the hottest project in the whole crypto universe. Since its debut BLAZAR token has been labeled as the "Crypto Pension ."Since then, it has created much anticipation among investors as many are calling it the ultimate DeFi Space project of the year.
It has been reported that immediately after BLAZAR Tokens Smart Contract was released Earlier this week, both centralized and decentralized crypto exchanges made numerous attempts to lure BLAZAR to trade with them. With the token to be utilized as a pension supplement, Police officers throughout the country are lining up for the chance to purchase BLAZAR at what many are calling a significantly discounted rate.
BLAZAR has also made sure to cover the entire world by registering to trade on exchanges carefully spread throughout. On Thursday, 4/21, BLAZAR Token will begin trading on PancakeSwap, Coinsbit, DEXTRADE, and DSDAQ centralized exchanges. They are the early innovators tapping into a trillion-dollar market. Many states and local municipalities have begun seeking approval to dedicate around 1.5% of their investment dollars to crypto.
While some may seem like small potatoes, BLAZAR sees this as the flood gates just beginning to open, and those at the forefront are about to g