E-Cigarette Sales Burgeoning in U.K. with Aggressive Product Promotion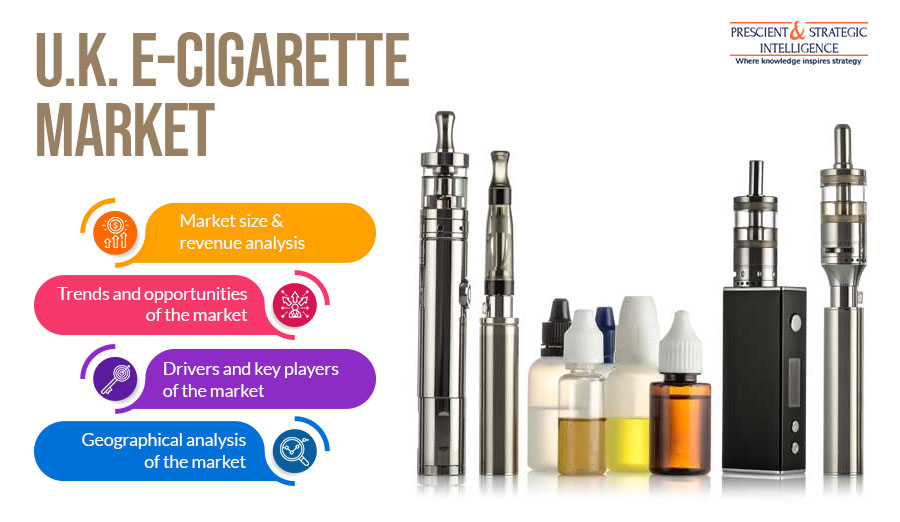 The U.K. e-cigarette is a fragmented market having high competition. Companies such as Imperial Brands plc, British American Tobacco plc, Japan Tobacco Inc., and Philip Morris International Inc. are the leading players in the market.
More than half the people who use tobacco in any form die, as per the World Health Organization (WHO). The agency further says, "Tobacco kills more than 8 million people each year. More than 7 million of those deaths are the result of direct tobacco use while around 1.2 million are the result of non-smokers being exposed to second-hand smoke." This means that it is not only harmful to those who use it but also to many who don't.
Citing the dangers of tobacco smoking, P&S Intelligence expects the U.K. e-cigarette market value to increase to $6,486.5 million by 2024 from around $2,000.0 million in 2018, at a 19.6% CAGR during 2019–2024 (forecast period). This will be primarily on account of the rising awareness on the ill-effects of conventional cigarettes and ways in which their electronic variants are a little less harmful (although the jury is still out on this issue). E-cigarettes do not contain the over 4,000 chemicals that conventional cigarettes do, which is why they are considered a less-harmful way of nicotine intake.
Request for sample copy of this report: https://www.psmarketresearch.com/market-analysis/uk-e-cigarette-market/report-sample
Further, these devices do not produce smoke or ash, which makes them acceptable in areas where conventional cigarettes are banned. Moreover, many people simply throw cigarette butts wherever they feel like, which leads to waste and soil pollution. Since the electronic variants have no component that can be just thrown, their acceptance among Britons is increasing. However, the biggest reason for the rising demand for e-cigarettes is perhaps that their vaping liquid, also known as e-juice, comes in a variety of flavors, such as bubble gum, cola, fusion of fruits, methanol, chocolate, and mint.
Moreover, these products come in sleek designs and in packs with vivid graphics, which speak to the youth. This is why among all the categories in the age group segment of the U.K. e-cigarette market, the 16–24 category holds the largest share. This corresponds to the finding that most of the e-cigarette users in the U.K. are those with a better educational background and those in cities. This is also because people in rural areas are not as aware of these products as those in urban areas and they usually prefer simpler things, including conventional cigarettes.
Browse detailed report on United Kingdom E-Cigarette Market Emerging Trends, Leading Players, Growth and Forecast Report 2024
Presently, England dominates the U.K. e-cigarette market as it is the most-populated dominion of the kingdom. With the rising awareness on the harms of conventional cigarettes, the people of England are switching rapidly to electronic variants. Seeing this shift, major tobacco companies, such as Philip Morris International Inc., Altria Group Inc., British American Tobacco p.l.c., Japan Tobacco Inc., JUUL Labs Inc., Imperial Brands PLC, Pax Labs Inc., Shenzhen iSmoka Electronics Co. Ltd., Innokin Technology Co. Ltd., Shenzhen IVPS Technology Corporation Ltd., and Shenzhen Kanger Technology Co. Ltd., are aggressively promoting their products here via vape shops, hypermarkets/supermarkets, online channels, and tobacconists.
Thus, with more people going for 'cleaner' smoking, the sale of e-cigarettes will increase in the U.K.
U.K. E-Cigarette Market Segmentation
By Product
Cig-a-like
Vaporizer
Vape Mod
T-Vapor
By Gender
By Age-Group
16-24
25-34
35-44
45-54
55-65
65+
By Distribution Channel
Vape Shops
Online
Hypermarket/Supermarket
Tobacconist
Others
By Region
England
Wales
Scotland
Northern Ireland
Browse Other Related Reports
E-Cigarette Market – Geographically, the European region held the largest share in the e-cigarette market in 2019, wherein the U.K., the Netherlands, Germany, Spain, and Italy generated the maximum revenue. This can be primarily attributed to the rising popularity of the vape shop culture in the region.
E-Cigarette Market in South Africa – According to the estimates of the market research company, P&S Intelligence, the revenue of the South Africa e-cigarette market will rise from $20.7 million in 2018 to $62.0 million by 2024. Furthermore, the market is predicted to demonstrate a CAGR of 18.6% from 2019 to 2024. The emergence of e-cigarette retail websites is driving the sales of e-cigarettes in South Africa.
Media Contact
Company Name: P&S Intelligence
Contact Person: Abhishek
Email: Send Email
Phone: +918887787886
Address:Noida Sector 2
City: Noida
State: UP
Country: India
Website: https://www.psmarketresearch.com/market-analysis/uk-e-cigarette-market