Richter's Syndrome Pipeline Insight 2021 by DelveInsight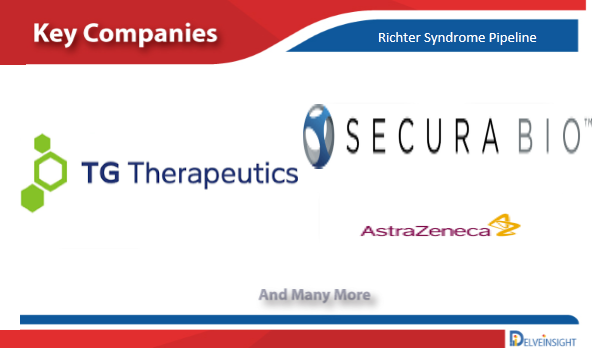 DelveInsight's Richter's Syndrome Pipeline Insight, 2021 report provides comprehensive insights about 5+ companies and 5+ pipeline drugs in Richter's Syndrome pipeline landscape. It covers the pipeline drug profiles, including clinical and nonclinical stage products. It also covers the therapeutics assessment by product type, stage, route of administration, and molecule type. It further highlights the inactive pipeline products in this space.
Richter's Syndrome Overview
Richter's Syndrome (RS), also known as Richter's Transformation, is a rare complication of Chronic Lymphocytic Leukaemia (CLL) and/or Small Lymphocytic Lymphoma (SLL). It is characterised by the sudden transformation of the CLL/SLL into a significantly more aggressive form of large cell lymphoma. Richter's Syndrome occurs in approximately 2-10% of all CLL/SLL patients during the course of their disease.
Approach to free sample copy- https://www.delveinsight.com/sample-request/richters-syndrome-pipeline-insight
List of regions covered in the report
List of companies involved in the report
TG Therapeutics
Secura Bio
AstraZeneca
Vincerx Pharma
Merck & Co
And many others
Richter's Syndrome Symptoms
The most common symptoms of Richter's Syndrome arise from a sudden and dramatic increase in the size of lymph nodes (also known as 'lymphadenopathy') characterised by usually painless areas of swelling in the neck, axilla, abdomen (most commonly in the spleen, also known as 'splenomegaly') or groin. Patients also often experience a dramatic increase in unexplained weight loss, fevers and night sweats (often collectively referred to as 'B-symptoms').
Richter's Syndrome Diagnosis
The definitive or differential diagnosis of Richter's Syndrome is achieved by an excisional biopsy or CT/ultrasound guided core needle biopsy of an enlarged lymph node that is thought to be indicative of the Richter's transformation. The current standard first-line treatment for this type of lymphoma is the immuno-chemotherapy using a combination of chemo drugs and a targeted anti-CD 20 monoclonal antibody. Other second-line chemotherapy regimens often used to treat this type of lymphoma (if non-responsive or 'refractory' to R-CHOP) include R-ICE, D-HAC, R-DHAP, GIVE, etc.
Richter's Syndrome Emerging Drugs
Duvelisib: Secura Bio
Duvelisib, is a small-molecule inhibitor of phosphoinositide-3 kinases that was designed initially to prove that simultaneous inhibition of the isoforms delta and gamma can produce a broad adaptative and innate immune cell inhibitory activity. It is currently in Phase II stage of development for the treatment of Richter's Syndrome and is being developed by Secura Bio.
Richter's Syndrome Phases
Late-stage products (Phase III)
Mid-stage products (Phase II)
Early-stage products (Phase I/II and Phase I) along with the details of
Pre-clinical and Discovery stage candidates
Discontinued & Inactive candidates
Route of Administration
Approach to free sample copy- https://www.delveinsight.com/sample-request/richters-syndrome-pipeline-insight
Table of content
Introduction
Executive Summary
Richter's Syndrome: Overview
Pipeline Therapeutics
Therapeutic Assessment
Richter's Syndrome– DelveInsight's Analytical Perspective
In-depth Commercial Assessment
Richter's Syndrome Collaboration Deals
Late Stage Products (Phase III)
Drug Name: Company Name
Mid Stage Products (Phase II)
Duvelisib: Secura Bio
Early Stage Products (Phase I)
AZD4573: AstraZeneca
Preclinical and Discovery Stage Products
Drug Name: Company Name
Inactive Products
Richter's Syndrome Key Companies
Richter's Syndrome Key Products
Richter's Syndrome- Unmet Needs
Richter's Syndrome- Market Drivers and Barriers
Richter's Syndrome- Future Perspectives and Conclusion
Richter's Syndrome Analyst Views
Richter's Syndrome Key Companies
Appendix
Richter's Syndrome Report Insights
Richter's Syndrome Pipeline Analysis
Therapeutic Assessment
Unmet Needs
Impact of Drugs
Richter's Syndrome Report Assessment
Pipeline Product Profiles
Therapeutic Assessment
Pipeline Assessment
Inactive drugs assessment
Unmet Needs
Key Questions
Current Scenario and Emerging Therapies:
How many companies are developing Richter's Syndrome drugs?
How many Richter's Syndrome drugs are developed by each company?
How many emerging drugs are in mid-stage, and late-stage of development for Richter's Syndrome?
What are the key collaborations (Industry–Industry, Industry-Academia), Mergers and acquisitions, licensing activities related to the Richter's Syndrome therapeutics?
What are the recent trends, drug types, and novel technologies developed to overcome the limitation of existing therapies?
What are the clinical studies going on for Richter's Syndrome and their status?
What are the key designations that have been granted to the emerging drugs?
About Us
DelveInsight is a Business Consulting and Market research company, providing expert business solutions for life science vertical and offering quintessential advisory services in the areas of R&D, Strategy Formulation, Operations, Competitive Intelligence, Competitive Landscaping, and Mergers & Acquisitions.
Media Contact
Company Name: DelveInsight Business Research LLP
Contact Person: Yash Bhardwaj
Email: Send Email
Phone: +919650213330
Address:304 S. Jones Blvd #2432
City: Las Vegas
State: NV
Country: United States
Website: https://www.delveinsight.com/