Joe Fucarino Takes Podcasting & Mental Health into the Film Industry with new TV Show 'Therapy Without a Degree'
Joseph Salvatore Fucarino was raised in Lodi, New Jersey He is the son of Philomena Cammisa and Michael Fucarino. Joe grew up in low-income housing with his single mother. He grew up living in a home filled with love and emotional support however Joe had continuous amounts of adversity very early on in his life in many different directions.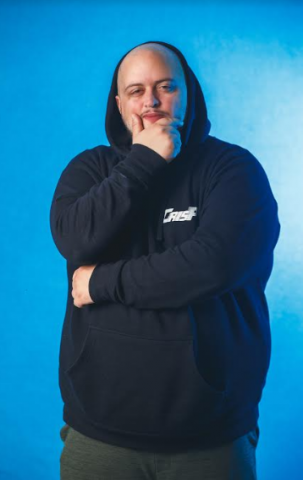 In middle school Joe would get bullied from many children in his grade. Children would spike volleyballs at him in gym class, start a fire near his head with a lighter and hairspray, and body shame him all through the day. Most of Joe's close friends were either in different grades or even different schools, he was in this alone.
After school Joe would make home videos and short films with his friends and family using a basic camcorder from Kmart. He would make his own versions of various hit movies. Very soon, life happened and those blockbuster dreams became something very fictional.
When Joe wasn't in school, he had to take care of his mother who was struggling from a heroin addiction since he was 8 years old. She showed amazing amounts of love, admiration and support for Joe but she would constantly be on and off drugs or in and out of jail.
After many years of attending college to pursue a Hospitality Management Degree and working different jobs he felt the need to break out of his comfort zone. Joe came to terms that he has been battling depression almost all his life. His battle was tough and he had to get up from the ground. Through music, self assessment, friends and motivational videos Joe started to break free from feeling alone, not good enough and depressed.
Fall of 2016 Joe started his brand "Therapy Without a Degree". He wanted to create a platform for others who felt the same way he has for most of his life. While facing adversity Joe was always very self aware and saw life from a pretty balanced perspective. When others would ask for help, he would always feel as if he was in their shoes at one point or another in his life. In his eyes, who else was better to give the advice than someone who has felt the same pain.
Therapy Without a Degree LLC started out as a podcast for people who need some raw, unfiltered, real advice on a given situation or topic by regular everyday people. The podcast currently has 180 episodes and releases a new episode every single week! Topics are very diverse and touch on mental health, personal development, relationships, sex and much more. The brand consists of Joe Fucarino, Phillip 'Zain' Dias, Natalie Cruz and Tae Gaiinz! Over the last four years the brand has expanded to many different avenues! Joe and his team have had Art Therapy events, Music Therapy events, Live Podcasts and Entrepreneur Coaching events! Their Facebook Group Community currently has over 500 members who discuss different mental health topics and hold each other accountable.
Recently Joe has announced to media outlets that Therapy Without a Degree is currently in production on their own independent TV Show/Web Series. The show is based on their podcast and will be an anthology series. The very first episode takes audiences back to how Joe got the idea for the podcast! Every episode following the pilot will be based on topics the team has dissected on the podcast! The project is an 'I AM ZAIN STUDIOS' and 'Therapy Without a Degree LLC' Production.
"We want to make sure that we can help as many people as we can remember the fact that they are not alone in their adversity. We want to remind everyone that no matter what they are going through, no matter if it is extremely serious or something small that it's going to be okay. We plan to do this through multiple different creative aspects, whether it is a podcast, tv show or whatever the case." – Joe Salvatore Fucarino
Therapy Without a Degree is currently filming the show and is looking for a home (network) for it's first season. The first season to be released in the summer of 2021.
Donations can be made towards the production via Cash App $TherapyWithoutDegree or via PayPal [email protected]
To learn more about Joe or Therapy Without a Degree visit www.JoeFucarino.com or www.TherapyWithoutaDegree.com

Follow Joe today @JoeFucarino_
Follow the brand Therapy Without A Degree @therapywithoutadegree
Media Contact
Company Name: Therapy Without a Degree LLC
Contact Person: Joe Fucarino
Email: Send Email
Country: United States
Website: www.TherapyWithoutaDegree.com