Virtual Fitting Room Market is Projected to Reach $19,250.4 million by 2030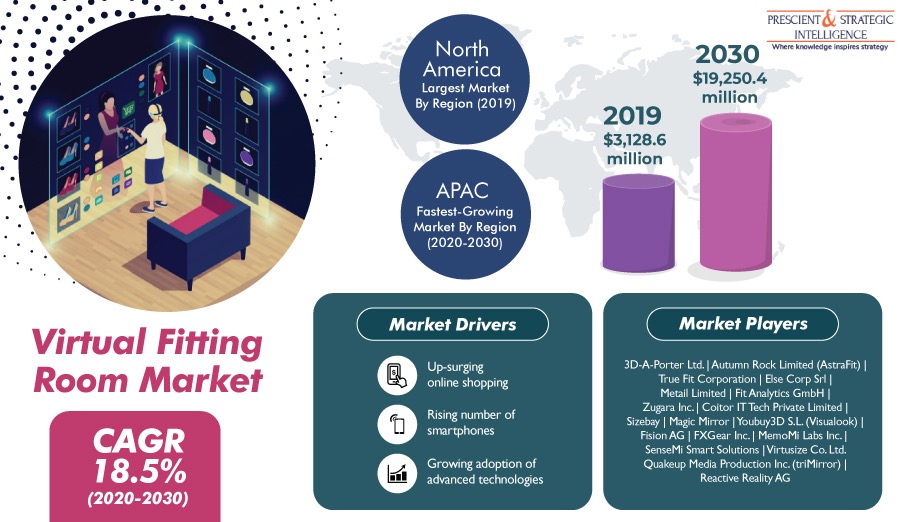 Global virtual fitting room market is advancing at a CAGR of 18.5% during the forecast period by P&S Intelligence.
A virtual fitting room is a digital representation of a fitting room, wherein images taken from cameras and processed by AI, AR, and VR let a person try on clothes and other pieces of attire in the virtual space. The cameras analyze the person's physique and movements and digitally superimpose the attire on their own 2D or 3D image, to show people how it would look on them in reality. P&S Intelligence expects the rising usage of these technologies and smartphones to take the virtual fitting room market to $19,250.4 million by 2030, from $3,128.6 million in 2019, at an 18.5% CAGR between 2020 and 2030.
The concept can also be used in physical stores, inside a specially designed kiosk. In fact, physical stores account for the higher usage of this technology than e-commerce platforms at present. With the advancements in the AI, AR, and VR technologies, the expectations of customers regarding trying on apparel and clothes virtually are increasing, which is impelling physical stores to deploy virtual fitting rooms. But, the COVID-19 pandemic has come as a dam in front of a raging river, significantly depressing the activity of physical stores, with the lockdown and movement restrictions in place.
Request for sample copy of this report: https://www.psmarketresearch.com/market-analysis/virtual-fitting-room-market/report-sample
One's loss is another's gain, it seems, as e-commerce companies are flourishing presently, with a large number of customers shifting to online shopping during the pandemic. Even after the pandemic is over, people might be apprehensive about going to physical stores, out of fear of contracting the infection. This is why e-commerce companies are expected to rapidly adopt the virtual fitting room concept for their websites, to cash in on the boom the e-commerce sector would witness.
North America has been the largest virtual fitting room market till now, on account of the earlier adoption of AR, VR, and AI and higher usage of internet-based services. The higher internet speed and smoother connectivity in the region allow e-commerce customers to access data-intensive applications, such as virtual fitting rooms, on their PCs, tablets, laptops, and smartphones. However, with the increasing penetration of these technologies and in an effort to regain the customers lost to online shopping portals, physical stores in the region have also started offering virtual fitting rooms.
Some of the key players operating in the virtual fitting room market include 3D-A-Porter Ltd., Autumn Rock Limited (AstraFit), True Fit Corporation, Else Corp Srl, Metail Limited, Fit Analytics GmbH, Zugara Inc., Coitor IT Tech Private Limited, Sizebay, Magic Mirror, Youbuy3D S.L. (Visualook), Fision AG, FXGear Inc., MemoMi Labs Inc., SenseMi Smart Solutions, Quakeup Media Production Inc. (triMirror), Virtusize Co. Ltd., and Reactive Reality AG.
Browse full report at: https://www.psmarketresearch.com/market-analysis/virtual-fitting-room-market
Market Size Breakdown by Segment
By Component
Software
Hardware

Pre-fabricated
Customized

Service

Consulting
Integration
Support
By Application
Apparel
Beauty and Cosmetics
Eyewear
Footwear
Jewelry and Watches
By User
Physical Stores
E-Commerce Platforms
By Region
North America
Europe

U.K.
Germany
Italy
France
Spain

Asia-Pacific (APAC)

China
Japan
India
South Korea
Australia

Latin America (LATAM)
Middle East and Africa (MEA)

Saudi Arabia
U.A.E.
Turkey
South Africa
Browse More Reports
Simultaneous Localization and Mapping Technology Market – https://www.psmarketresearch.com/market-analysis/slam-technology-market-report
GIS in Disaster Management Market – https://www.psmarketresearch.com/market-analysis/gis-in-disaster-management-market-analysis
Media Contact
Company Name: P&S Intelligence
Contact Person: Abhishek
Email: Send Email
Phone: +918887787886
Address:Noida Sector 2
City: Noida
State: UP
Country: India
Website: https://www.psmarketresearch.com/market-analysis/virtual-fitting-room-market