BackOSage 8-in-1 Decompression Massage Belt that helps Instantly Stop Back Pain surpasses its Indiegogo goal a month before its end date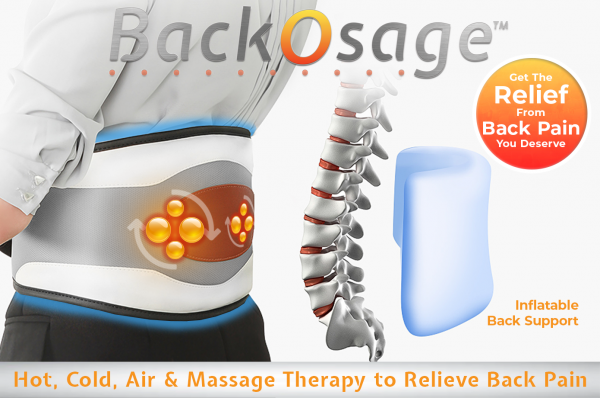 Backpain is a pretty common problem in the vast majority of people. It may be caused by getting older, or bad posture that leads to spinal compression and even chronic pain. It is important to take care of it, as ignoring it for a longer time may lead to adverse results. This is where the BackOSage 8 in 1 Decompression inflatable massage belt comes to the rescue. This belt will help you decompress lower back joints and spinal discs, along with lifting the weight of your upper body off of your lower back. This belt will help in improving your posture, help improve blood circulation, and also help get rid of stress, tension, muscle pain, and cramping.
The BackOSage instant back pain solution will provide you with 8 treatments, within the single lightweight and portable relief belt. This belt inflates with air which stretches and retracts the lower back and offers heat, cold, air and massage therapy – all designed to help relieve your back pain. The filling of the air gap helps in decompressing the spinal disc, allowing your spine to align to its natural position.
BackOSage is easy to use. It is lightweight and can be carried along, anytime, anywhere. Also, this belt uses the therapeutic principles used by chiropractors to decompress the spine and relieve lumbar pressure that is very efficient in getting rid of back pain.
The decompression helps relieve pressure off degenerative, herniated, bulging discs and pinched nerves such as sciatica. This allows degenerative discs to repair for faster healing. The BackOsage Lumbar Decompression Belt inflates from a width of 5 inches to a width of 8 inches, placing your spine in an upright position and providing support to your lumbar spinal cord. By returning your spine to it's natural position and taking some weight off, the BackOsage Belt provides room for your vertebrae to stretch and for your intervertebral discs to return to their original position. This reduces the back pain that originates from herniated, bulging discs which can be very painful as they hit the nerves in your spinal cord.
BackOSage has already surpassed its funding goal with a huge margin, almost a month before its end date. A number of backers from around the world have contributed to this campaign to pre-order the innovative backpain solution. Through the early bird reward, the belt can be pre-ordered at a price of $99 instead of its MRP of $199.
More information about the product and related offers are available on BackOSage's Indiegogo page.
Media Contact
Company Name: Backosage
Contact Person: Brian
Email: Send Email
Country: United States
Website: www.indiegogo.com/projects/backosage-8-in-1-decompression-massage-belt